Exchange Program with Japanese Family
Student-Mother Matching
The members of the" Japanese Mothers for International Students" Movement of the Tokyo YWCA would like you to join their families and to be your "Japanese mother" during your stay in Japan. Each student will have one Japanese mother.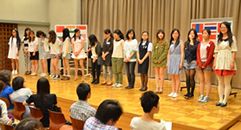 On "Meeting Day" the matched student and Japanese "mother" are introduced to each other for the first time, and embark on a new relationship.

Japanese "mother" warmly accept the matched student in her family and give spiritual support. (It is not home-stay.) It may last throughout the students' stay in Japan or even beyond.
How to participate in our program
Every April, guidance about our programs is given for international students. We receive applications from those who want long term exchange with Japanese families, and work on matching.
If you wish to have a long-lasting relationship with a Japanese family, please come to our Explanatory Meeting. We will hand you out an application form then.
Applicants should be university or graduate students, vocational school students, and Japanese language school students.