Programs for International Students Studying in Japan
Saturday Conversation Lounge
Hours : Saturday, except national holidays,
13:30 to 17:00
for further details
Chances for international students in Japan to talk with Japanese people are not as abundant as they wish. Here, they can enjoy talking freely, practicing Japanese on native volunteers, and meeting other students from various countries.
Sometimes, the traditional Japanese events are planned such as "OSHOUGATU", "TANABATA".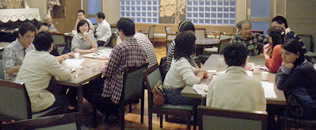 Tokyo YWCA International Student Advisory Room
Hours : Tuesday, Thursday, Friday, except national holidays,
13:30-17:30
International students can visit or call (in Japanese) the room and ask for advice and information on any matters concerning international students' life in Japan, such as immigration, choosing schools, finding scholarships, housing, jobs etc. or about any trouble they have.
Japanese language conversation partners and short-term home-stay programs are also provided (only for those studying in Japan).
"Tuesday Salon (Kayou room) " for practicing Japanese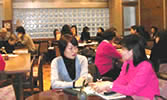 every Tuesday 15:30-17:20
for further details
One-on-one Japanese conversation practice with volunteer
Questions are welcome.
Click the "QUESTION BOX" , fill in the question form and send it.
We will reply by e-mail.
International Students
Japanese Langusge Speech Contest
This contest gives an opportunity to express their opinions in Japanese, and also for the audience to learn much about the students' values and ways of thinking.